Getting a lift, without envy, amid luxury – Chicago Tribune – 7/6/2002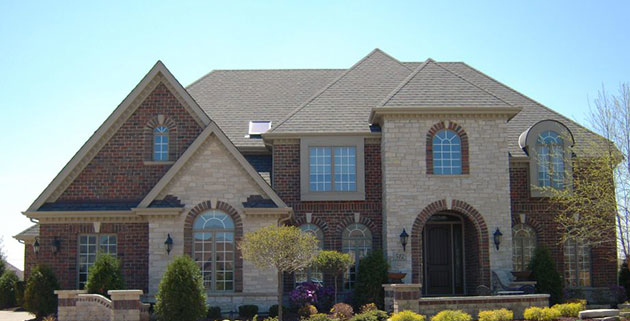 Getting a lift, without envy, amid luxury – Chicago Tribune – 7/6/2002
Article Source
Back in August, '99, when House Hunter was just six months old, I wrote that I'd become "intrigued by a very practical question involving design: Who changes the light bulbs and washes the windows in the two-story foyers, great rooms and family rooms that are becoming so popular?"
Since then I've seen hundreds of chandeliers hanging from second-floor ceilings and they still make me wonder. Yes, I know about those long, skinny light-bulb changers and have heard about rigs and pulleys.
But not until I happened upon a model by Oak Hill Builders & Developers Inc. of Naperville did I see a two-story foyer with a chandelier that was motorized to descend and ascend via a simple turn of a key inside the foyer's guest closet.
This little miracle, the chandelier lift, happens to be a standard feature of every Oak Hill home with a two-story hanging light fixture. That's standard, meaning it's part of the total price, not a costly option, according to Jim Stanitz Jr., of Oak Hill, brother of the firm's president, Nick Stanitz.
I'd stopped at the Oak Hill model in Naperville's South Pointe development for directions. I looked around, commented on the detailed cabinetry ("standard," said Jim), hardwood floors ("standard"), the crown moldings ("standard").
He demonstrated the chandelier lift, then handed me two, single-space typed lists of standard features, including sound-insulated bathroom and bedroom walls. Heaven.
65 E. Goethe
Last November, on what turned out to be the windiest, most bone-chilling day of the year, I set out to investigate the meaning of raw space for House Hunter readers. The building-to-be was named after its location, 65 E. Goethe, in the heart of the Gold Coast.
At that point, the structure was eight floors of concrete columns and floors, walls with openings for windows and pipe stands for future plumbing.
The developer, Christopher Carley, chairman of Fordham Co., waxed enthusiastic about the end result: The zinc mansard roof (and the 6,000-square-foot rooftop garden), the exterior walls to be clad in limestone, the hand-forged iron rails and details inspired by vintage Parisian residences.
I was thinking, as usual, "I'll believe it when I see it."
When I checked its progress recently, I was awed. It fits into the neighborhood beautifully, certainly outshining some of the old mansions now in need of helping hands, and it seems comfortable in relation to some of the nearby towering, modern condos. It belongs.
The best view, I think, is from a bench in lovely Goudy Park, just west of 65 East, and loaded with tiny tots and toddlers, daddies pushing swings, mommies refereeing sandbox play and nannies, too. As one mother said to me, "It's a pretty building, clean but with such wonderful architectural detailing."
Even though the least expensive unit will go for $2.85 million for 3,500 square feet of raw space and $10 million will cover the cost of a 12,000-square-foot unit, 68 percent of the units are sold (under contract). But, each unit does include two indoor, heated parking spaces Naperville "envy"
Just call me Basher Buck of House Hunter-land, as one reader suggested when she left a voice message when I wrote about the Cavalcade of Homes at South Pointe in Naperville, opening July 13. (Call 630-393-4490.) She said she was "surprised" by my attitude, was upset by my being "out of line" in the way I "bashed this suburb," where she is building a home.
Her 3,700 square-foot home will have four bedrooms and 2 1/2 bathrooms and she wondered why I was so taken by bathrooms (I wrote that one bathroom isn't enough for three bedrooms).
"Don't you know a bathroom can cost $4,000 to $8,000 and it's only going to be used by a couple of kids and maybe some guests?" she said. Her preference: put that money in "granite countertops, wood floors, upgraded carpeting and brick." Well, I'll opt for my kids and my guests any day; she can have her granite and wood and we'll all be happy.
She indicated I didn't know what I was talking about when I wondered what had happened to all-brick homes, inasmuch as these over $500,000 models only have brick fronts.
She added: "All-brick is very rare. Drive around Burr Ridge, Oak Brook, Naperville–maybe you'll see three or four." (Not so.)
She continued: "I know some of these Cavalcade homes are kind of crazy with that brick and fancy stones. We kind of laugh at them because they're beyond what a house is about."
Now, shame on you Ms. Voice Mail. Would I say something like "kind of crazy" or "laugh at them"–no way.
Anyway, she ended by saying she detected in my writing a lot of "envy of not living in Naperville."
Not in their wildest dreams would any of my friends or colleagues ever think I had Naperville envy. I don't even have Astor Street or Kenilworth envy. There is no room in this heart or head of mine for envy, hate or "should-haves."
Keep those calls and letters coming. Love `em!
———-
Contact Genevieve Buck at New Homes section, Chicago Tribune, 435 N. Michigan Ave., 4th floor, Chicago, Ill. 60611. Or e-mail gbuck@tribune.com.
https://www.oakhillbuilders.com/wp-content/uploads/2002/07/luxury-naperville-home.jpg
450
630
MGw3bd3v
https://www.oakhillbuilders.com/wp-content/uploads/2019/07/oak-hill-builders-naperville.jpg
MGw3bd3v
2002-07-06 16:04:38
2019-04-02 21:46:46
Getting a lift, without envy, amid luxury – Chicago Tribune – 7/6/2002